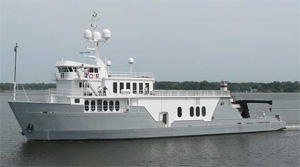 Lay, Pitman & Associates has been selected by Shadow Marine, builders of innovative yacht support vessels, as their primary naval architect and marine engineers. We appreciate this relationship and look forward to the future.
Al Shoua
Recently Lay, Pitman & Associates completed a six-month project on the latest vessel for Shadow Marine. YCO took delivery of the 206 ft. Al Shoua, Yacht Support Ship. The Captain and crew have conveyed their enthusiasm with the functionality and handling of the vessel.
Allure
LP&A provided all necessary naval architecture for the BV classification for Shadow Marine's 222 ft. "Allure". This vessel will be on display at the 2008 Fort Lauderdale International Boat Show. Lay, Pitman provided the conversion construction documents and engineering for this exciting yacht. The Allure has hosted several parties including the Sea Keepers dinner and the Nikki   Beach white party.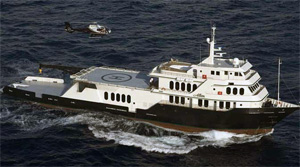 Voyager Class
LP&A is currently working on a new build design for a 336 ft. x 55 ft. Shadow Yacht for an undisclosed owner. There are many unique features planned for this design including a game room with a gyroscopic pool table, an underwater observation area, and "GREEN" philosophies. This new mega yacht is sure to provide the "WOW" that accompanies all of LP&A's designs.